Quality dentistry in the comfort of your home
Over the past few years, we've had to adapt to a virtual way of doing things – including dentistry! Smile Virtual is an easy and convenient way for our clients to start their smile transformation journey or address any dental concerns without having to come into our office.
Virtual dental consultations are especially beneficial and convenient for busy individuals and those who live far from our office. It's also a great alternative for patients who are nervous about sitting in the dentist's chair. At Pittsburgh Dentist, we work hard to create a relaxed and comfortable environment, including meeting you virtually in the comfort of your home!
How does Smile Virtual work?
It's easy! Simply follow these 3-steps …

Upload a smile photo or area of concern.
We will create a personalized video with recommendations.
View your video and schedule an appointment.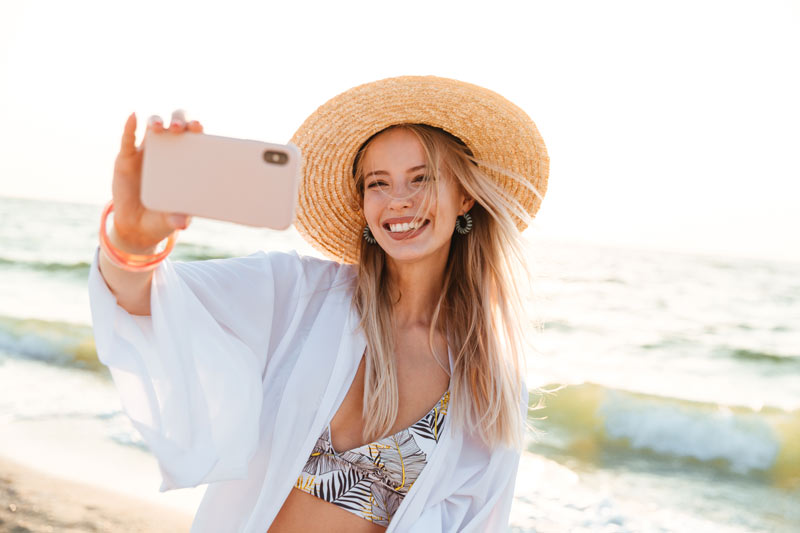 The benefits of a virtual dental consultation
Better access to quality care – It can be challenging for some patients to get to our dental office because they live far away or don't have reliable transportation. Smile Virtual allows us to expand our reach and gives patients better access to quality dental care.
Saves time – For busy individuals, a virtual consultation is a great way to receive an expert treatment recommendation without having to fit in extra travel time in their day.
Less intimidation – Understandably, many patients avoid scheduling an appointment because they feel anxious about the dental chair. A virtual consultation is perfect for individuals who experience dental anxiety to be able to receive the consultation they need.

A great way to start your smile transformation – If you've always dreamed of having a beautiful, straight smile but don't know where to begin, a virtual consultation is a great way to start the conversation. We give our recommendations based on your photos and areas of concern – then the power is in your hands to schedule an appointment with us at our dental office to begin your smile makeover.
Why Pittsburgh Dentist for a virtual consultation?
At Pittsburgh Dentist, we adopt a whole-patient approach to dentistry instead of just treating a specific area. We look beyond treating your teeth to make sure the rest of your mouth is healthy too, including assessing your bite, addressing any pain and discomfort, looking at any misalignment issues, behavioral factors, and your overall health history.
Dr. Alex is an award-winning and well-known leader in special dentistry, including restorative procedures and neuromuscular dentistry treatments. As part of our commitment to providing quality dental care, we make it a priority to learn, improve, and stay up-to-date on new dental technologies and techniques. Complete dentistry also means understanding how treating one part of the mouth affects the rest of the mouth, and we keep this in mind during every part of your treatment.
At Pittsburgh Dentist, we not only help you achieve the smile you've always wanted, but we make sure your smile is functioning as it should. When you choose Dr. Alex and her team, you're choosing some of the highest quality dental care in the Pittsburgh area.