Planning for the cost of high-quality dental treatment…
When seeking dental treatment of a specialized nature, whether it is for cosmetic or restorative purposes, it is important to realize that high-quality dental care may cost more on average than general dental care.
We provide high quality, complete dental care to give our patients the smile of their dreams or to allow them to live free from the pain or discomfort caused by disorders like TMJD.
A personalized treatment plan for each patient…
We design a personalized treatment plan for each patient, pairing our principles of complete dentistry with the latest diagnostic tools and dental technology. This combination allows us to create an effective treatment plan to eliminate your pain and give you a beautiful, healthy smile.
Your personalized treatment plan will include your available treatment options, projected length treatment, and the cost of your care- so there are no surprises during your treatment.
Living Pain Free Is Priceless
Practicing medicine can be very complicated, and even more so when insurance plans, premiums and protocols come into play.Instead, we aim to provide our patients with the highest quality care possible by spending quality time face-to-face with patients, getting to know them, listening to them and getting them out of pain.
TMJD & Health Insurance
As TMJD is often a complex and complicated condition, treatment costs and insurance coverage can vary significantly from patient to patient depending on diagnosis, the type of treatment and length of treatment needed. In most cases, getting insurance to pay for treatment can be difficult – if not impossible – or the condition is specifically excluded from dental insurance policies.
As a result, we have opted-out from participating in insurance programs as we have found their requirements to be a hinderance in helping patients get the care they need. By not taking insurance, we can work directly with patients to get them out of pain and treating them in the manner they need to be treated – instead of how insurance companies think they should be treated and when they should be treated. The pay-off for patients is great care, when and how they need it with no hidden fees, no worrying premuims and copays and no surprises.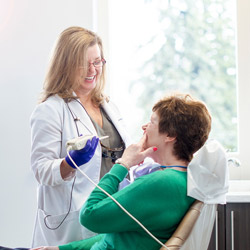 Don't put off your dental work any longer!
We recognize that the costs of dental care can be intimidating... If you are delaying treatment due to financial constraints, we encourage you to contact our office regarding options for financing your treatment. We offer flexible payment plans and financing options.
Questions about payments or financing? Contact us today!